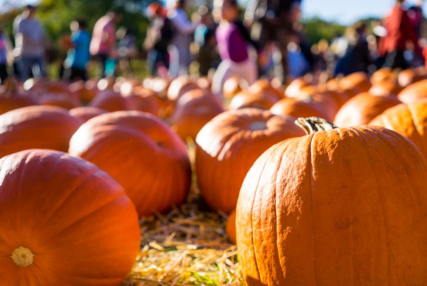 Whether you're a local resident or planning a visit to Telford, there's a treasure trove of family-friendly activities waiting for you during the October Half Term. From spooky Halloween discos to pumpkin picking and thrilling adventures, Telford has it all.
Here are our top 10 activities and events that all the family can enjoy:
1.Halloween Disco at Telford Ice Rink | 27 October 2023 | 6-7:30pm & 7:45-9:15pm
Get your skates on and your Halloween costume ready for a night of chilling fun at Telford Ice Rink. The Halloween Disco promises a spooky atmosphere with themed music, decorations, and even some ghoulish surprises on the ice. Don't miss this eerie but exciting experience!
2.Pumpkin picking at Wrekin Spirit Pumpkin Patch | 6- 31 Oct (or sold out) Fri, Sat & Sunday | 11am – 4pm
For those looking to embrace the autumn spirit, head to Wrekin Spirit for a delightful day of pumpkin picking. Choose your perfect pumpkin, explore the fields, and create your own Jack-o'-lantern masterpiece when you get home with a glass of Wrekin Spirit Pumpkin Spiced Gin. It's a fantastic activity for the whole family.
3.Halloween at Exotic Zoo | 21 October – 5 November 2023 | 10am – 4pm
Make your Halloween extra wild this year by visiting Exotic Zoo. Encounter exotic animals while learning about their fascinating habits and habitats. Plus, during October Half Term, the zoo transforms into a Halloween wonderland with spooky decorations and themed activities for the kids including bug tasting, pumpkin picking and more!
4.Halloween trail on Wellington High Street | 21 October – 5 November 2023
Pick up a free Halloween trail map from The Orbit and take a stroll through Wellington High Street. Follow the map to discover the clues, visiting some of the towns bet independent shops along the way. A perfect mix of education and Halloween thrills!
5.Design a scare machine at Enginuity | 21 October – 5 November 2023
Can you design a machine that's made to scare people? Put your skills to the test at Enguinity this half term and let's see who dares to create the scariest scare machine imaginable!
6.Wonderland Halloween extravaganza
Halloween trick or treat by day | 28 October - 5 November 2023 | 11am-4pm
Halloween evening extravaganza | 28 – 31 October 2023 | 5pm-9pm
Experience the enchantment of Wonderland Halloween, a whimsical celebration with fantastical creatures, magical decorations, and captivating entertainment. It's a journey into a Halloween wonderland like no other! Note: the evening event includes scare actors and is not suitable for small children.
7.Halloween spooktaculor at Telford Theatre | 2 November 2023 | 2pm
Its treats all round this Halloween, as Made to Measure Productions brings A fang-tastic family show to Telford! Get ready for rib-tickling laughter and bags of audience participation as you join the intrepid explorers on the Halloween adventure of a lifetime!
8.Halloween Harvest at Apley Farm Shop I various dates throughout October 2023
Get ready for a magical encounter with scarecrows at Apley Farm Shop! Step into the storytelling tent, where a spellbinding, spooktacular story will captivate both you and your children. After the tale, embark on a thrilling self-led trail to find the Apley Scarecrows. Can you spot the mischievous one, the spooky one, the witchy one, and many more?
9.Blists Hill Victorian Town - Ghost Town | 27-28 Oct 2023 | 6-9pm
Step back in time to the Victorian era and explore the eerie streets of Blists Hill, which transforms into a ghost town during October Half Term. Encounter spooky characters, learn about Victorian superstitions, and experience a haunted history lesson.
10.Spooky tile painting at Jackfield Tile Museum | 26 October – 5 November 2023
Unleash your creativity at Jackfield Tiles Museum with spooky tile painting. Design your own Halloween-themed tiles, a perfect keepsake to remember your visit to Telford.
Related
0 Comments