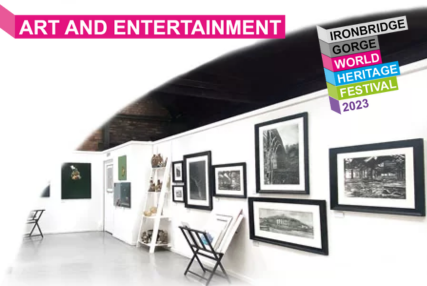 Get ready to embrace the summer spirit with us at the Ironbridge Gorge World Heritage Festival. This annual celebration of arts and entertainment promises a season of unforgettable experiences, join us for a fortnight of artistic brilliance, captivating films, and joyful celebrations. Here are all the events taking place under our Arts and Entertainment category:


28 August - 3 September 2023
Victorian Seaside Experience
Location: Blists Hill Victorian Town, Legges Way, Madeley, Ironbridge Gorge, Telford, TF7 5UD
Step into the enchanting world of the 19th-century seaside at Blists Hill Victorian Town. With 22 tonnes of sand transforming the green into a 12m x 12m beach, you'll have the perfect spot to relax in deckchairs while the kids play in the sand or ride the old-style carousel. Don't miss out on the knobbly knees competition and other seaside delights!
_________________________________________

Wednesday 6 September 2023
FILM: Jane Eyre
Location: The Anstice, 1 Anstice Square, Madeley, Telford TF7 5BD
Time: 2pm
Experience the magic of timeless classics on the big screen at The Anstice in Madeley.
After a harsh childhood, orphan Jane Eyre is hired by Edward Rochester, the brooding lord of a mysterious manor house, to care for his young daughter.

THIS EVENT IS FREE
_________________________________________
Thursday 7 - Sunday 17 September 2023
Severn Arts Trail
Location: various venues across the Ironbridge Gorge World Heritage Site
Explore the creative world of the Severn Arts Trail as it winds through various venues across the Ironbridge Gorge World Heritage Site this September.
Uncover new art discoveries, visit open studios, and find the perfect piece to add to your collection. This event is a fantastic opportunity to immerse yourself in the vibrant local arts scene, and the best part – it's all FREE!
Check out this years featured artists here.
THIS IS A FREE EVENT
________________________________________
Thursday 7 September 7pm £5
FILM ADVENTURER BOOK HERE
Location: The Engine Shop, Enginuity, Coalbrookdale Telford
Film Adventurer Karel Zeman is a biographical film that looks back at the life, work and significance of the genius of world cinema. It looks into the kitchen of the film tricks pioneer. We interview today's filmmakers from Japan to America to find out why his films are still alive and in many ways unsurpassed. Terry Gilliam, Tim Burton, Koji Yamamura, Kosei Ono and others talk about their inspiration by Karel Zeman. His film The Fabulous World of Jules Verne was released in 70 countries, showing in 96 theaters in New York alone. Zeman was in his field of absolute solitaire, he created his own handmade world based purely from his imagination. There is one more story in the film - nowadays students of animation at Zlin university remake three of Zeman´s best scenes using old ways of making the special effects, how do they succeed?
For group rates please contact: events@telford.gov.uk
________________________________________
Thursday 14 September 2023
Black Country Voices
Location: All Nations, Madeley Road, Ironbridge, TF8 5DP
Time: 8-9pm
Join us for an evening filled with poetry, laughter, and poignant moments as talented artists Anne Babbs, Fraser Scott, Marion Cockin, and Michael W. Thomas come together at All Nations in Ironbridge on 14 September 2023. Experience the rich culture and language of the Black Country region, and revel in the magic of their words.
THIS IS A FREE EVENT
________________________________________
Sunday 17 September 2023
Folk Music Gig
Location Holy Trinity Church, Coalbrookdale
Time: 4pm
Melodic folk singer Mair Thomas is performing as part of the Ironbridge Festival on at Holy Trinity Church, Coalbrookdale.
Tickets are £5 on-the-door, children enter FREE. Tickers include a hot drink and a slice of cake.
Related
0 Comments