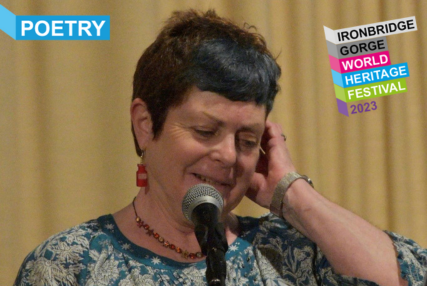 Enjoy the captivating world of poetry at the Ironbridge Gorge Heritage Festival!
Join talented poets as they explore themes of love, nature, rural life, and more, these events will be memorable experience for both poetry enthusiasts and casual listeners alike.





Enter this year's Ironbridge Poetry Competition
You can enter your piece of poetry for the chance to win top prize of £300! Winners will be selected by judge Pat Edwards. The competition is open to poets from across the globe and poems on any and every subject are welcome.
Entry is £4 per poem. Closing date for entries is midnight on 17 September.
________________________________________
Monday 4 and Thursday 7 September 2023
Page To Stage Poetry workshop
Location: Water Rat, Buildwas Road, TF8 7BJ
Time: 7pm
Join poets, prattlers, and pandemonialists for a fun, friendly workshop designed to give you the skills to read/perform/share your poems in public. A couple of spaces will be made available at the Ironbridge Festival slam on September 17th for poets from these workshops wanting to make use of their new skills!
Tickets are £5pp. BOOK HERE
________________________________________
Tuesday 5 September 2023

Russian Love Poetry
Location: The Bolthole, The Wharfage, Ironbridge, TF8 7AW
Time: 2-4pm
An afternoon of poetry readings with Yvonne Appleby and Simon Fletcher. The Russian poems will have English translations. Poetry Readers' group members are encouraged to bring along a love poem they've written or admire, with translation, if necessary, to share.
Yvonne Appleby is now a printmaker in Ludlow but in a previous life studied and taught Russian language and 19th-mid-20th century literature at the universities of Leeds and Exeter. She is a great admirer of Russian poetry for its rhythms and musicality, and for the succinctness and exquisite precision afforded it by the structure of the language.
Simon Fletcher helped to set up the Poetry Readers' group with Ian Parr. He is a widely published poet and literature promoter. His most recent pamphlet, Wild Orchids, included work that was commended in the Michael Marks Environmental Poet of the Year Award, 2022.
THIS IS A FREE EVENT
________________________________________
Friday 8 September 2023
Island Fusion
Location: All Nations, Madeley Road, Ironbridge, TF8 5DP
Time: 8-9pm
An exciting poetry performance from Gracey Bee and Kenton Samuels. Join us for some island-hopping poetry inspired by the Caribbean, Britain and Japan.
Gracey Bee, born in Montego Bay, Jamaica, is a poet and storyteller working in schools, libraries and festivals. 'Island Fusion' was sold out at this year's Wolverhampton Literature Festival.
Gracey came second at last year's Ledbury Poetry Festival Slam. She's published in 'New Voices' and Faith Initiative magazine and has appeared on five radio shows in the last 18 months, including BBC WM Radio.
Kenton Samuels is a member of Blakenhall Writers' Group, Wolverhampton. He's had poetry published in The Cannon's Mouth and Bedtime Stories: Tales for Children. He won the 'WV Prize' in the 2022 Wolverhampton Literature Festival poetry competition and has performed with Gracey Bee for several years. Also, one of the 'New Voices' poets from Offa's Press.
THIS IS A FREE EVENT
________________________________________
Saturday 9 September 2023 THIS EVENT HAS BEEN CANCELLED
Earth & Rain Poetry Evening
Location: Maws Craft Centre, Jackfield, Telford TF8 7LS
Time: 7:30 – 9pm
New poetry from talented West Midland poets Ros Woolner and Cherry DoyleJoin us for an excellent evening of poetry from two of the brightest talents on the poetry scene. They will be reading from their new collections Earth Walker and The Taste of Rain.
Ros Woolner is a translator and member of Bilston Writers, Wolverhampton, and the Cannon Poets in Birmingham. In 2021 she won 1st and 3rd Prizes in the Guernsey International Poetry Competition and was long listed in last year's National Poetry Competition. Her pamphlet On the Wing was published by Offa's Press in 2018. She won the Chiltern Arts Festival poetry competition earlier this year.
Cherry Doyle lives near Cannock Chase. Her work has appeared in Ink, Sweat and Tears, Southlight, Presence, Dust, The Haibun Journal, and numerous anthologies, and her pamphlet September is available from Offa's Press. She has just completed an MFA in Poetry at Manchester Writing School (part of Manchester Metropolitan University).
Tickets £5 pp. BOOK HERE
________________________________________
Sunday 10 September 2023
Poetry Writing Workshop theme "World Heritage"
Location: Water Rat, Buildwas Road, TF8 7BJ
Time: 2-5pm
David Bingham and Simon Fletcher will lead an inspiring poetry workshop starting and finishing at the 'Water Rat'. This will involve a gentle walk into Ironbridge. The last hour at the pub will be for re-drafting and sharing work. Poetry written at this workshop may be entered for the festival poetry competition.
Tickets £12pp. BOOK HERE
________________________________________
Thursday 14 September 2023

Black Country Voices
Location: All Nations Inn, 20 Coalport Rd, Telford TF7 5DP
Time: 8 – 9pm
Be prepared for laughter and tears, pathos and good humour.
Anne Babbs is a poet born and bred in the Black Country and a member of Bilston Writers. A winner of the annual 'Poetry on Loan' competition she has also had work published in the 'Bread and Roses' anthology. She was long-listed for the Poetry Wales pamphlet competition and is one of Offa's New Voices.
Fraser Scott lives in the Black Country with his young family. He is also a current member of Bilston Writers, and some of his poems are featured in New Voices anthology which has just been selected by Poetry on Loan as 'Recommended Reading' across West Midland libraries.
Marion Cockin was born in Wednesbury in the heart of the Black Country. She is co-writer of The Nailmakers' Daughters with Emma Purshouse and the late Iris Rhodes. Her first pamphlet collection, The Wednesbury Mangle Theory has been described as 'Black Country magical realism'. Her work has appeared in many magazines including Mslexia.
Michael W. Thomas's poetry pamphlet Under Smoky Light was published by Offa's Press, 2020. He reviews for the Times Literary Supplement and his work has appeared in The Antioch Review, Critical Survey and Under the Radar, among others. For several years he was poet-in-residence at the Robert Frost Festival, Key West, Florida. He was long-listed in the National Poetry competition, 2022, and also long-listed and short-listed for the Indigo Dreams Spring Poetry Prize, 2023.
THIS IS A FREE EVENT
________________________________________
Saturday 16 September 2023

Rural Voices Poetry Reading
Location: The Water Rat, 29 Buildwas Rd, Ironbridge, Coalbrookdale, Telford TF8 7BJ
Time: 2:30pm – 4pm
Join Nicky Hetherington, Tom Allsopp and Simon Fletcher Water Rat for this special 'Country Voices' reading focusing on rural matters, nature and the environment. These rural poets have written extensively about life in the countryside, yesterday and today.
Tom Allsopp is from Hednesford, Staffordshire, a poet and playwright who has had work staged in theatres across the country. He spends a lot of time walking on Cannock Chase and had two pieces included in 'In The Sticks'.
Nicky Hetherington lives in mid-Wales and spends a lot of time gardening and cultivating trees. She won the Oriel Davies Open Poetry Competition, 2017, and 2nd place in Writing Magazine's haiku competition the same year. She has had work in magazines including Earth Love and in the anthology In the Sticks. She's also published an entertaining pamphlet Cultivating Caterpillars.
Simon Fletcher grew up on a smallholding in the Wyre Forest and has written many articles and poems about life in the countryside. He lives in north Shropshire and enjoys walking in the Oswestry Hills. His pamphlet, Wild Orchids, includes material 'commended' in the Michael Marks Environmental Poet of the Year Award, 2022.
Tickets £5 pp. BOOK HERE
________________________________________
Sunday 17 September 2023

Poetry Slam
Location: The Engine Shed, Enginuity, TF8 7DX
Time:2:30pm
After last year's carnival of poetry in the Ironbridge Spiegeltent, Poets, Prattlers, and Pandemonialists return with their high-energy, highly entertaining poetry slam. Fifteen poets perform their work and compete against each other. Only one can win the prize of a paid gig in Ironbridge later this year. Who will it be? What poems will they share with us? How will the judges vote? And will you think the judges made the right decision?
Tickets £8PP. BOOK HERE
Related
0 Comments